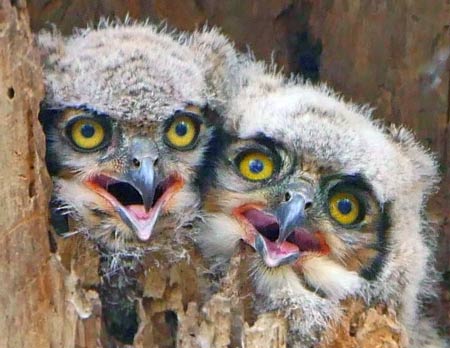 Two of the three baby owlets at Twin Lakes this spring. Photo by John Jones.
To find out more about BCNA, see the
BCNA Buzz
, 
BCNA Newsletter
, join us on
Facebook
or watch the short video,
Boulder County Nature Association: 1982 to present
.
BCNA Publications
You can now buy books and CDs directly from BCNA! See what we have to offer at our
new online bookstore
or buy them at
many local stores
.
Upcoming Events
BCNA has a new schedule of classes for this winter. At this point, all classes are full. However, you can still request to be put on the wait list in case a spot opens up.
June 28: Flower Adaptations to Harsh Environment
July 9: Birds and Butterflies of Upper Gregory Canyon
August 15: Birds and Insects of Boulder's Tallgrass Prairies
BCNA Board Meeting
The next BCNA board meeting will be September 13th at 3 pm at City of Boulder Open Space building on Cherryvale. All are welcome to attend.
Monthly Nature Almanac
Listen to Steve Jones discuss the migrants coming up from the south to nest in the shrubs growing along the Fowler Trail in the KGNU Nature Almanac for June. These short nature almanacs are broadcast on KGNU Radio, 88.5 FM, 1390 AM on the first Friday of every month at 8:06 am.
Nature-Net
Nature-Net is BCNA's email forum for announcements of classes and trips and discussions of many topics relating to Boulder County's natural environment. Nature-Net subscription information.