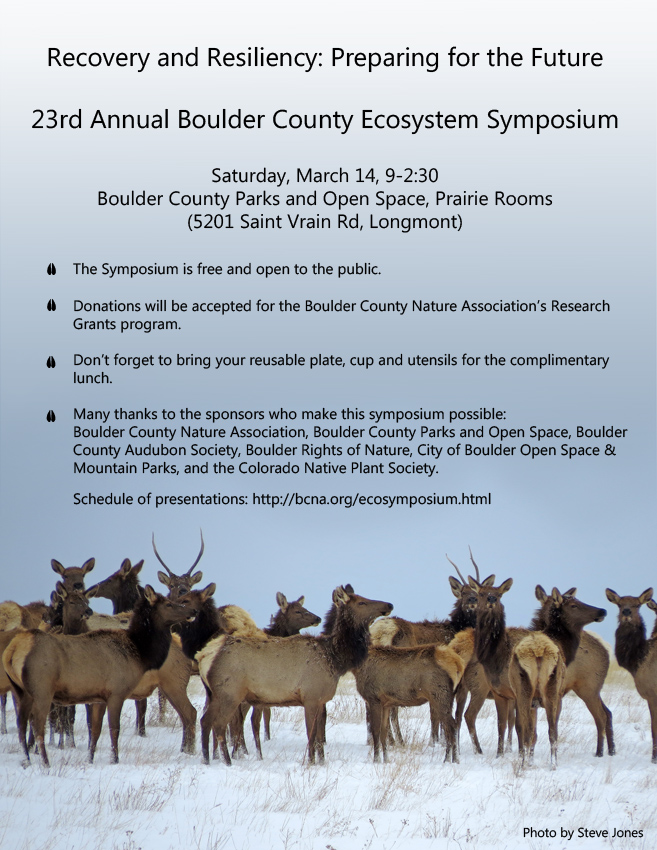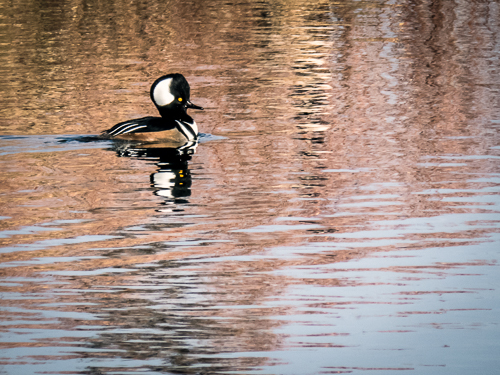 Hooded merganser at Prospect Park, Wheatridge. To find out more about winter ducks and other waterfowl that gather in this area, please listen to Steve Jones and Ruth Carol Cushman discuss their findings on a visit there on the
KGNU Nature Almanac for February
. These short nature almanacs are broadcast on KGNU Radio, 88.5 FM, 1390 AM on the first Friday of every month at 8:06 am.
For more information about BCNA see the latest BCNA Buzz, BCNA Newsletter, or join us on Facebook!
You can now buy books and CDs directly from BCNA! See what we have to offer at our new online bookstore. You can also purchase books and CDs at the Boulder Wild Bird Center, Boulder's Harlequin's Gardens, Wild Bear Science Center, in Nederland, Wild Birds Unlimited in Arvada and Denver, the Butterfly Pavilion in Westminster, Front Range Birding Company in Littleton, McDonald's Bookshop in Estes Park, and other discerning retailers in our area.
Upcoming Events
BCNA has a new schedule of classes for this winter. At this point, all classes are full. However, you can still request to be put on the wait list in case a spot opens up.
Saturday, March 7, 2015 at 6 pm: BCNA's Annual Meeting at the Arapahoe Ridge HOA Clubhouse, 1750 Powell Street, Erie
The program will chronicle BCNA's storied history and achievements and, hopefully, will stir fond memories for all of you who have supported BCNA through the years. A potluck supper will be followed by announcements and elections to the Board of Directors. Please bring your own drinks and a main dish, side dish, salad or dessert to share and your own table service and serving utensils.
Sunday, March 1: Winter Tree and Shrub ID hike, 9:00-11:30 at OSMP's Enchanted Mesa/McClintock Trail head (just south of Chautauqua Auditorium, at end of 12th St.)
Join Megan Bowes on a hike to closely examine woody plants—without their more readily identifiable leaves and flowers! We will focus on the structure of buds, twigs and bark that are visible during the winter and uncover any supplementary characteristics like seeds, fruit, nuts or dried leaves that may persist on the plant or on the ground beneath. To register, contact Megan Bowes at 303-561-4883 or megan.bowes@yahoo.com.
Saturday, March 14, 2015: BCNA Ecosystem Symposium -- "Recovery and Resiliency!  Preparing for the Future"
The 2015 Boulder County Ecosymposium will be held on Saturday, March 14 between 9 am and 2:30 pm at the Boulder County Parks and Open Space offices (5201 St Vrain Rd in Longmont). As usual, registration will begin at 8:30 and a complimentary lunch will be provided. Donations will be accepted in support of BCNA's Research Grants program. Following on the heels of the last Ecosymposium which examined extinctions and species in peril, the 2015 symposium will feature success stories of species recovery and habitat restoration. Come learn about Colorado's lynx reintroduction program, the change in bald eagle populations, the conservation of greenback cutthroat trout, Front Range grassland restoration and much more. The Boulder County Ecosymposium is supported by BCNA, Boulder Audubon, the Colorado Native Plant Society, and city and county open space departments. Contact Megan Bowes at megan.bowes@yahoo.com or 303-561-4883 with questions.
For more events, please see the listing in the Newsletter.
Nature-Net
Nature-Net is BCNA's email forum for announcements of classes and trips and discussions of many topics relating to Boulder County's natural environment. Nature-Net subscription information.