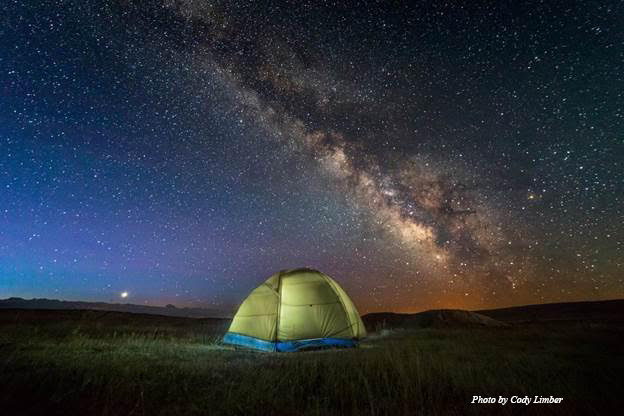 Listen to Steve Jones and Dave Sutherland look at the winter constellations at Boulder Valley Ranch KGNU Nature Almanac for February. These short nature almanacs are broadcast on KGNU Radio, 88.5 FM, 1390 AM on the first Friday of every month at 8:06 am. Photo of the night skies at Crescent Lake National Wildlife Refuge by Cody Limber.

Learn more about BCNA
BCNA Publications
You can now buy books and CDs directly from BCNA! See what we have to offer at our new online bookstore or buy them at many local stores.
Upcoming classes
We are offering nine fascinating classes for 2016!

Once again, Steve Jones will offer his popular Bird Song class. Learning how to identify birds by the sounds they make, as well as by visual cues, will exponentially expand your understanding of what's around you, and increase the likelihood that you'll see it.
Perry Conway is back with two classes – Bears, concentrating on Colorado's own black bears, and Falcons, featuring a close-up look at live birds of this raptor family.
Rick Adams returns with his incredible hands-on Bats class.
David Leatherman builds on last year's session with Birding Under the Influence (of Habitat), exploring food webs, nesting requirements, and more.
Scott Severs will help us learn to identify insects, including common ones not covered in his recent classes, in What's Bugging You?
Virginia Scott will lead us into the world of the Humble bee, Bumble bee. Did you know our state has 24 species of bumblers?
Megan Bowes will unravel the age-old mysteries that make many throw up their hands with her new class, Bad Asters – An Intro to the Confusing World of Composites.
Finally, professional photographer, Bob Maynard, will lead a hardy group to Rocky Mountain National Park in his class, Shoot like a Pro!
---
BCNA Winter Outing * * * * * Sunday, February 28th, 8:00 a.m.
Please join me for a day of snowshoeing -- or bring your skis -- to look for the elusive WHITE-TAILED PTARMIGAN in winter's snowy heights. We'll ascend a wide path for about 1 3/4 miles and 550 feet to our search area, and look for signs, and hopefully, the birds themselves. If we are lucky enough to find them. they will allow us to observe them closely as long as we are quiet. We'll talk about how they've adapted to their alpine home and why they're in danger.
We may see other animal signs and tracks as well, and we can try to decipher what they tell us about who passed that way and what they may have been doing. How wildlife survives harsh winter conditions encompasses many strategies and adaptations. Some life occurs beneath the snow in the hidden subnivean world, including some of the ptarmigan's!
While we can't guarantee we'll see these spectacular birds, we know we'll have fun, enjoy the company, and learn something about the world we live in. We'll hope for 4 - 6" of fresh snow, and a calm, sunny morning that will bring the birds out to feed. Please email me at canoemary@comcast.net if you are interested. We'll meet at the location at 8:00 a.m. A carpool will leave Boulder promptly at 7:00 a.m. We'll spend about 5 - 6 hours total in the area, returning to Boulder by 4:00 p.m. I'll provide location and a suggested equipment list to registered participants. Bring a lunch.
---
Meetings of interest to BCNA and local conservationists
North area TSA City of Boulder

The City of Boulder Open Space and Mountain Parks Department is developing plans for management of the 7,700 acres of OSMP-managed lands north of Linden Avenue and the Diagonal, and they are soliciting input from all interested people. It is critical that people stand up for habitat conservation and wildlife at these meetings. They have narrowed the plans down to two options. More information is on the City of Boulder website. Please see the BCNA Buzz for details as to why we strongly recommend Scenario A with a bike path on the east side of North Foothills Highway/US Highway 36.

BCNA Annual Meeting: February 13th

The annual BCNA meeting for all members will be held February 13th at the Arapahoe Ridge HOA Clubhouse in the evening. Jan Chu and Rick Adams will speak.
---
Grant Applications: Due February 15th
Applications for grants for projects consistent with our mission are due no later than February 15, 2016. For descriptions of past research projects funded by BCNA, and for a description of the proposal process, see http://bcna.org/grantapplications.html.
---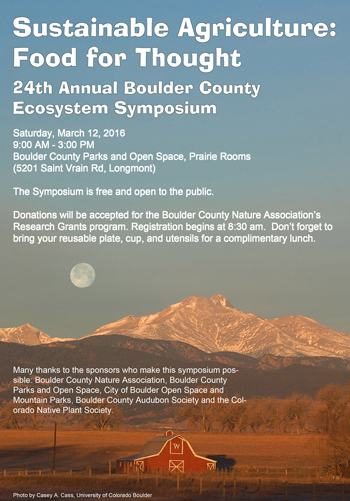 Ecosystem Symposium: March 12th

Boulder County Nature Association holds a yearly conference to present information and encourage discussion about a topic of current interest. In 2016, the symposium will be held on Saturday, March 12th. The topic is Sustainable Agriculture: Food for Thought and will focus on the connections between Boulder County's natural and agricultural resources. With a rich agricultural heritage, Boulder County's agricultural practices have done much to affect plant and wildlife populations -- for the good and otherwise. We will also look at the role of agriculture in releasing and storing carbon.

To download posters or learn about past symposia, visit http://bcna.org/ecosymposium.html

---

Nature-Net

Nature-Net is BCNA's email forum for announcements of classes and trips and discussions of many topics relating to Boulder County's natural environment. Nature-Net subscription information.