Windy Days in Boulder
by George Oetzel
A Daily Camera article on Nov 12, 2003, "Gusts break 75 mph," prompted Steve Jones to post to Nature Net that such events are hardly rare in Boulder. Indeed, Boulder has a widespread reputation for high winds. A NOAA Climate Diagnostics Center Web page describes notable Boulder wind events from 1967 to early 2003. A note at the bottom of the page emphasizes that it is provided for curiosity only, not as an official reference. This NOAA wind-report page hasn't been updated since 2003.
The page generally focuses on days in which wind gusts above 70 mph were reported somewhere in the area. Sometimes the highest gust was reported at NCAR; other times Rocky Flats, Table Mesa, or sometimes simply not specified. Reporting sites and methods have probably changed over the 35 years. Sometimes the notes accompanying the numbers are particularly interesting. The quote below has been edited slightly so as to be less cryptic.
"Jan 16-17 1982: night-afternoon 137 at NCAR 2:30am; 20 gusts > 120
40% of all Boulder buildings damaged, 136 Lyons"
I've extracted from the Web page 69 events where gusts at or above 90 mph are indicated. The figures below provide a graphical overview of the frequency and intensity of the events. The first shows the individual events over the whole time period.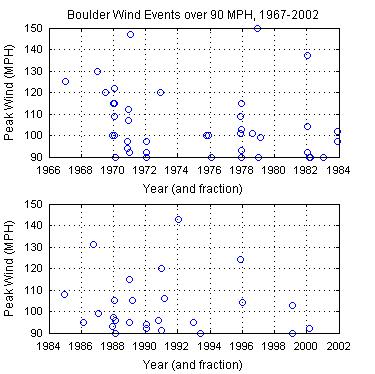 The second shows the distribution over the years, broken into 5-year intervals. This graph shows that gusts over 90 mph have been less common in the last decade than earlier in the reporting period. It's possible that this is entirely the result of a change of reporting stations and procedures. However, the Daily Camera currently treats 75 mph as headline news, while it probably had a higher threshold in the '80s. One can speculate at length about whether this represents a real trend. A decade is too short to be certain.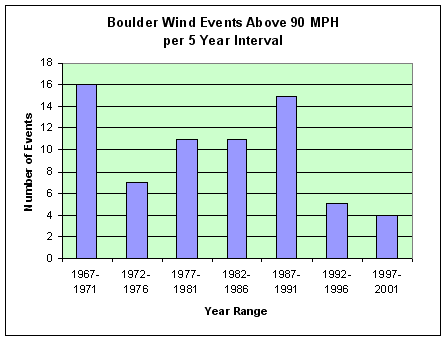 Finally, the distribution of events by month of the year illustrates what is common knowledge in the area. The strongest winds usually occur in mid-winter.