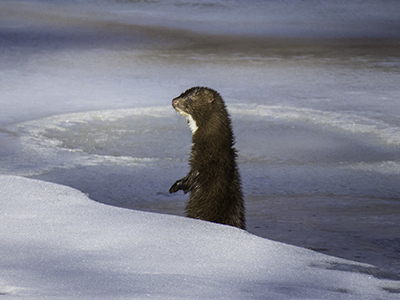 COLORADO WILDLIFE
Colorado Parks and Wildlife (CPW) is in the process of updating two key documents of interest to BCNA - the State Wildlife Action Plan (SWAP) and the 2015 Strategic Plan. BCNA is involved in this process.
Colorado State Wildlife Action Plan (SWAP)
The State Wildlife Action Plan is undergoing a 10-year review. It will be submitted to US Fish and Wildlife Service in September 2015. The Colorado Parks and Wildlife: State Wildlife Action Plan website includes the State Wildlife Action Plan, an eductional SWAP Webinar, and the review and revision schedule.
The SWAP is an incredible resource on Colorado wildlife. It is in-depth and comprehensive, and this revision includes an extensive climate change assessment. The plan identifies 286 species of greatest conservation need, within seven taxonomic groups, and 33 habitat types. The threats to each species and habitat type are presented, as well as recommended conservation actions. Fourteen general threats and eight general conservation actions are evaluated for each species and habitat type. The threats and conservation actions are summarized and prioritized in multiple tables by taxonomic group and habitat type. The climate change assessment evaluates each habitat type in terms of vulnerability and adaptive capacity.
The SWAP could be a valuable tool to assess Boulder County wildlife, now and in the future, and to evaluate proposed plans and projects.
Colorado State Strategic Plan
The 2010 Strategic Plan is currently being updated and will be used to guide CPW's efforts into the future. The 2015 strategic plan will set a high-level vision, overarching goals, and strategies for Colorado's state parks, wildlife and outdoor recreation resources. Through the planning process, CPW is striving to develop a strategic direction that is shared with citizens of Colorado, individuals who utilize CPW services, the Parks and Wildlife Commission and CPW's staff. The plan will reflect what CPW hears from stakeholders, the Commission, the public and staff during the planning process as well as build upon recent planning and research efforts. BCNA (Gerry Kelly) will review the draft plan and provide comments to CPW during July and August 2015. The plan is scheduled to be finalized by November 20, 2015. Additional information on the planning process and timeline is presented at the Colorado Parks and Wildlife: Strategic Plan website.