Books and CDs published by BCNA are available at special events hosted by BCNA, at the Boulder Audubon Chapter's annual holiday sale, locally at the stores listed below, or online through Amazon.


Wild Bird Center, Boulder
Harlequin's Gardens, Boulder
Wild Bear Science Center, Nederland
Wild Birds Unlimited, Arvada and Denver
Butterfly Pavilion, Westminster
Front Range Birding Company, Littleton
McDonald's Bookshop, Estes Park

---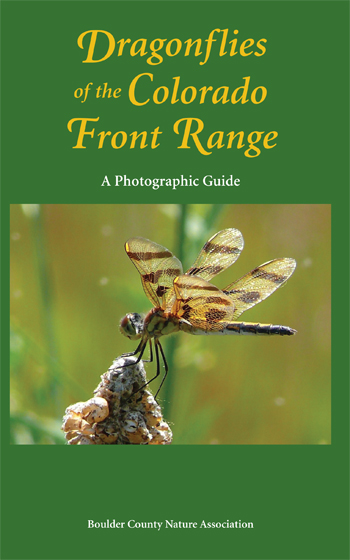 Dragonflies of the Colorado Front Range
Ann Cooper
Dragonflies are dainty, but deadly, as they dart over ponds and clearings on the hunt for prey. How can they fail to catch the eye with such shimmering rainbow colors? You can now learn about dragonflies of the Colorado Front Range from this beautiful and colorful new 112-page publication of the Boulder County Nature Association. Check the BCNA BUZZ to see how and where you can purchase your own copy of Dragonflies of the Colorado Front Range by Ann Cooper locally.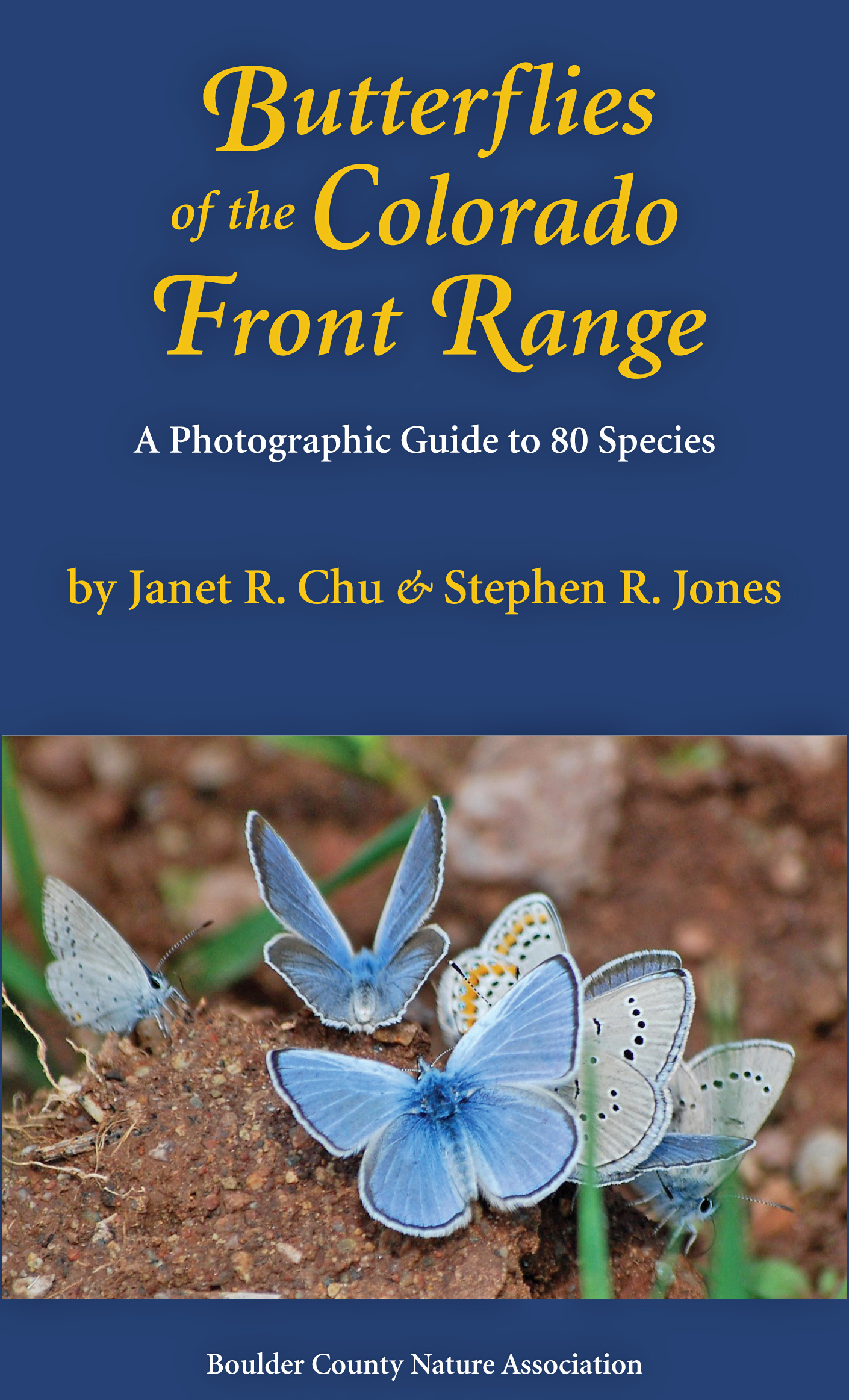 Butterflies of the Colorado Front Range
Jan Chu
Get close to swallowtails, fritillaries, monarchs, blues and other Colorado butterflies while learning about their miraculous tranformations and unique adaptations.Striking photographs and information for 80 common Colorado species accompany a month-by-month occurrence chart that tells when and where to look for your favorite butterflies.
SAMPLE PAGE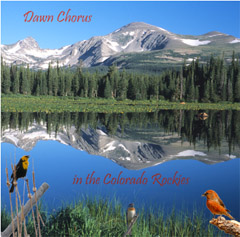 Dawn Chorus in the Colorado Rockies
Boulder County Nature Association
This entrancing CD presents bird songs recorded in eight Front Range ecosystems from the prairie to the alpine tundra. There are no human sounds on the 54‐minute CD, so it can be used for meditation and relaxation, for learning individual songs, or for providing pleasing natural background sounds. A 12‐page insert identifies each song and includes fascinating tidbits about how and why the birds sing.
Recording Locations were at Little Dry Creek Marsh, a wetland and mixed‐grass prairie (5200'); Lower Shadow Canyon, foothills shrub (6200‐6600'); Four Mile Canyon, Ponderosa Pine/Douglas Fir forest (6000‐6500'); Meyer's Gulch, Ponderosa Pine woodland and grassland (6600‐6900'); Coulson Gulch, Ponderosa Pine/Douglas Fir forest (6700‐7100'); Long Lake and Niwot Ridge, subalpine willow carr and spruce forest (10,222‐11,300'); and Fourth of July Cirque, spruce/fir forest and alpine meadow (10,500‐11,300').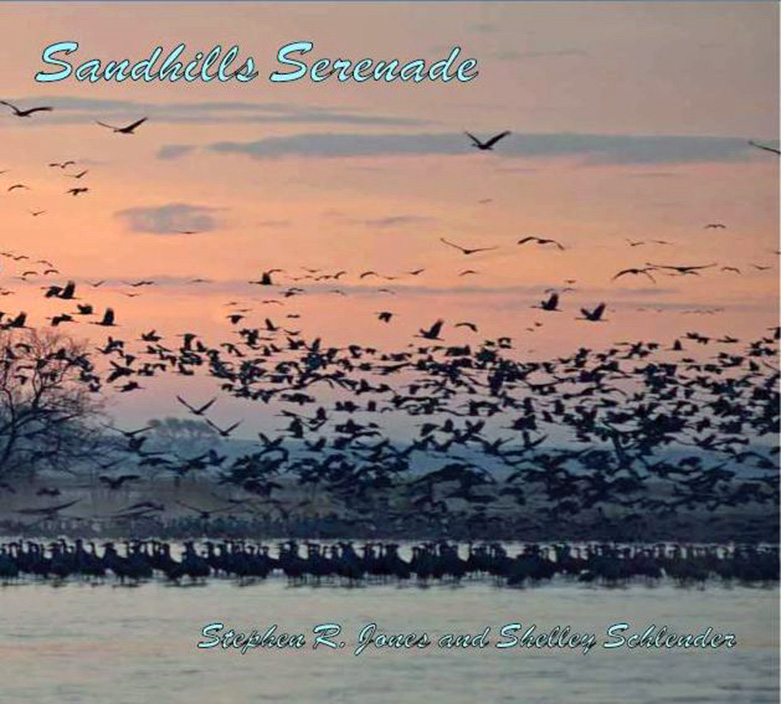 Sandhills Serenade
Stephen R. Jones and Shelley Schlender
Covering more than 20,000 square miles, the Nebraska Sandhills comprise the largest remaining expanse of native prairie in North America. From trumpeting sandhill cranes and booming prairie-chickens in early spring to dramatic thunderstorms and wailing screech-owls in late summer, these recordings capture the wild beauty of this breathtaking landscape. This 48-minute, non-narrated CD is perfect for meditation or relaxation, and a four-page insert helps listeners identify songs of more than 35 native bird species.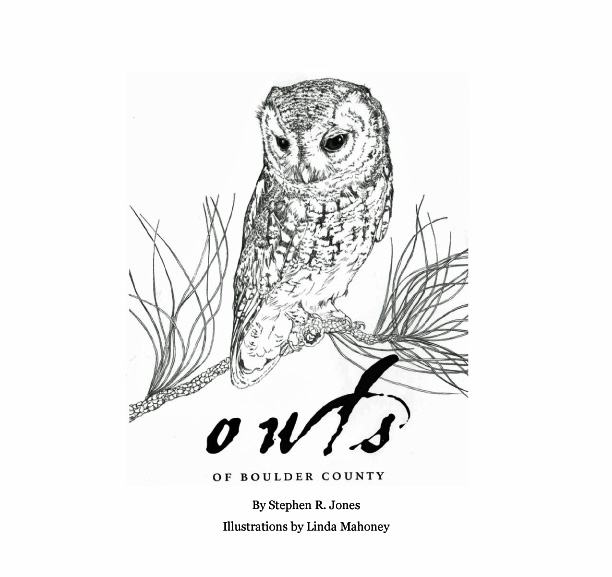 Owls of Boulder County
Stephen R. Jones with illustrations by Linda Mahoney
This pdf book describes each of the 12 owl species that occur in Boulder County, with species descdriptions and information about nesting and locations where they are sometimes found.
Download Owls of Boulder County