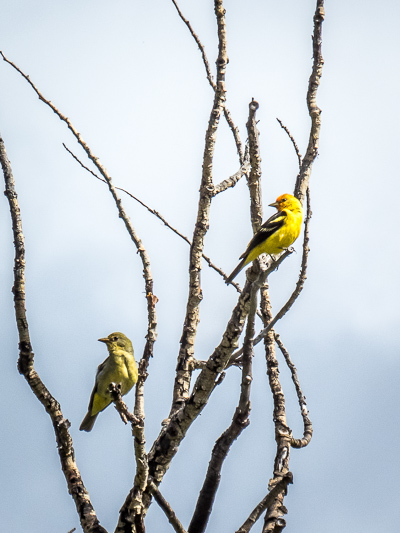 Male and female western tanager, Rocky Mountain National Park, July, 2015
>
History of the Indian Peaks Bird Count
The Indian Peaks Bird Counts are a long-term project commonly accepted to be an initiative of the Boulder County Nature Association. Conceived by Dave Hallock in 1981 with two other naturalists (Mike Figgs and Dave Alles), the count began as an Audubon Christmas Bird Count on January 1, 1982 and then evolved into a four season bird count the following summer. The format further evolved in the fall of 1991 when instead of specific count day, a count period was used to give participants more flexibility and slightly diminish the influence of bad weather.
Geographic parameters
The parameters of the count were established in a Christmas Bird Count-type circle centered near Rainbow Lakes, CO. The count circle covers most of southwestern Boulder County plus some of North-western Gilpin County (as the count does extend over the continental divide, there are also bits of Grand County.) In 2015, Dave Hallock remarks, "We do make it over to Grand County on occasion. I often go out to Corona Pass when doing Arapaho Pass and Mike and Nan have been going over Pawnee Pass." L. Andes-Georges adds that she is steadfast, though weakening, on the Niwot Ridge area, probably one of the windiest sectors.
Participants
In the original counts, participants were mostly recruited from local bird-focused organizations, with of course members from BCNA and the Boulder County Audubon Society. A few came from the CFO, the DFO and Foothills Audubon Club, while others came from the local mountain communities of Eldora and Nederland. For many years, there were approximately 25 to 30 observers on each count. A faithful few have never stopped, through more than three decades; others were recruited en route to the 21stcentury. As of this writing (2015] there are 35-45 occasional or assiduous volunteers covering the count areas (volunteer hours are registered at 250 to 350, depending on the season and the weather).
Protocol
Those performing the census count all avian individuals (some counters add information on mammals) observed on their recording day. IPBCs differ somewhat from CBCs, however, because there is not just one day specified for the count, but rather a period. That way, observers are able to reschedule counts away from bad weather days, or observe in more than one block. Count periods were defined as follows:
Winter--January 1 to February 15
Spring--May 1 to May 15
Breeding--June 1 to July 15
Fall--September 7 to September 21
From 2012 onward, the Winter count data is being submitted to Dave Hallock and to the Great Backyard Birdcount data center; the Breeding count to Dave; and the Fall count to Bill Kaempfer, one of the original participants and compilers. Archives are found at:
http://bcna.org/researchdata.html
Ecotones
Coverage does extend through wide portions of montane, sub-alpine and alpine habitat. The most sweeping finding of the twenty year history of the counts was the expansion in the presence of corvids in the high country, particularly American Crows, Common Ravens and Black-billed Magpies. In its earliest years the winter count was conducted as a regular CBC, and would occasionally register a national high for White-tailed Ptarmigan. [see below for updated observations] In 2012, with some participants finally "feeling their age," a new paradigm was created in order to preserve the effort in future years. The group agreed to do the Winter count in Feb. as an option (Great Backyard Birdcount on Pres. Day weekend), submitting data both to Dave Hallock and to Cornell's eBird; to generally drop the spring count requirement; and to continue both Breeding and Fall counts.
Long-term observations (2015)
There are several trends and cycles that we are seeing over the 33-year period of the count. First, there has been a steady increase in the numbers of corvids (jays, crows, magpies and the likes). Winter count numbers appear driven by the relative presence or absence of tree-cone seed eaters (particularly red-crossbills and red-breasted nuthatches), Bohemian waxwings, and mountain chickadees. And we keep speculating as to what drives the year-to-year changes seen on the summer count. Is it pure chance or is it showing real fluctuations in numbers related to nesting success? The trend appears to be that periods of drought result in increases in numbers of detected birds, while cool and wet periods seem to trigger declines; these trends are more pronounced in the subalpine portions of the count circle and generally are seen in the years following a climatic event (such as the drought that peaked in 2002, when our highest summer counts were seen in the following years). As our methodology for the count is not very rigid (being a modified Christmas bird count), we continue to look for other studies that may give clues. And then there is the appearance and disappearance of Brewer's sparrows and sage thrashers in the krummholz, which has peaked during periods of severe drought (2002 and 2012), lingers for a few years, and then disappears. –per compiler Dave Hallock [Data for each of the bird counts]