Natural History Guidebooks
for Boulder County Nature Observers
(Cover pictures highlight books by BCNA authors.)
General References
Benedict, Audrey. 2009. Sierra Club Naturalist's Guide: the Southern Rockies. University of Arizona Press. A comprehensive, insightful, and evocative guide to ecosystems and their plant and animal populations.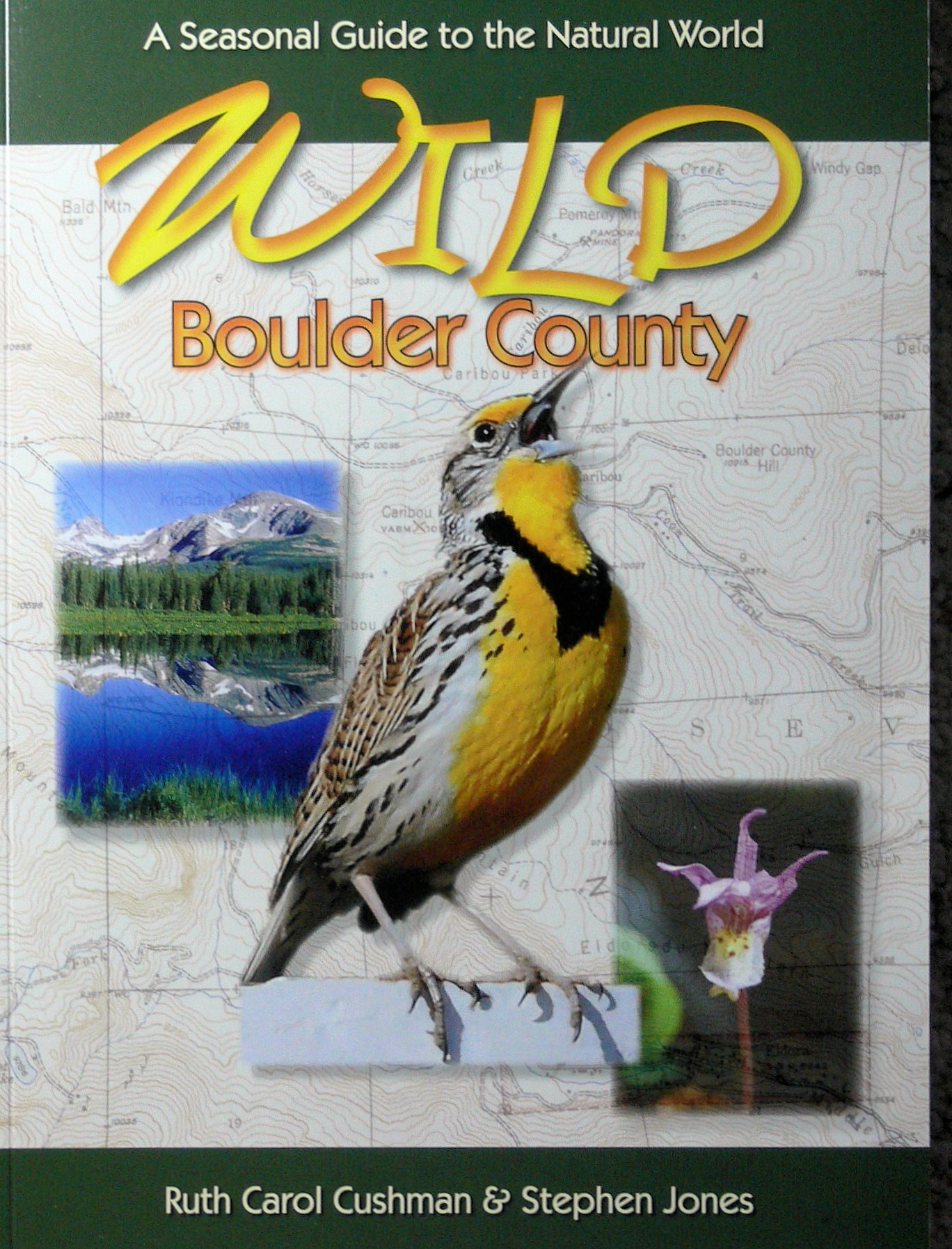 Cushman, Ruth Carol, and Stephen Jones. 2009. Wild Boulder County: A Seasonal Guide to the Natural Year. Pruett Publishing Company, Boulder. This ecology guide tells when and where to observe blooming orchids, nesting eagles and other natural phenomena while describing natural processes in local ecosystems.
Mutel, Cornelia, and John Emerick. 1984. From Grassland to Glacier, the Natural History of Colorado. Johnson Books, Boulder. A straightforward and readable introduction to ecosystems of the Front Range and Colorado.
Birds
Gray, Mary Taylor. 2009. The Guide to Colorado Birds. Westcliffe Publishers, Denver.
Kingery, Hugh, ed. 1998. Colorado Breeding Bird Atlas. Colorado Bird Atlas Partnership, Denver. This 630-page hardback reference book includes distribution maps, nesting phenology charts, and detailed life histories of all of Colorado's nesting birds.
Orleans, Dick, and Scott Rashid. Voices from the Wild. Bird songs of Rocky Mountain National Park. (CD). 50 songs are clearly represented, with no human voiceover, so this is a great CD for those wanting to get started identifying birds by their songs.
Righter, Robert, and Geoffrey Keller. Bird Songs of the Rocky Mountain States and Provinces. (CD). Clearly recorded songs of all species that nest in the Rocky Mountains.
Sibley, David Allen. 2003. The Sibley Field guide to Birds of Western North America. Alfred A. Knopf, New York. Among the more lightweight and clearly illustrated off the standard North American field guides.
Wheeler, Brian K. 2003. Raptors of Western North America: the Wheeler Guides. Contains striking photos and illustrations, along with detailed descriptions of field marks, ecology, and behavior.
Mammals
Armstrong, David. 2009. Rocky Mountain Mammals: A Handbook of Mammals of Rocky Mountain National Park in the Vicinity. University Press of Colorado, Boulder. An informative and clearly written guide to mammals of the Front Range, from the foothills to the Alpine.
Fitzgerald, James, Carron Meaney, and David Armstrong. 1994. Mammals of Colorado, University Press of Colorado, Boulder. This complete guide to Colorado mammals includes photos, range maps, and comprehensive life histories for all documented species.
Butterflies and Dragonflies
Brock, Jim, and Kenn Kaufman. 2003. Butterflies of North America. Species illustrations, descriptions, and range maps are all placed on fronting pages, making this guidebook very easy to use in the field.
Dunkle, Sydney. 2000. Dragonflies through Binoculars: A Field Guide to Dragonflies of North America. Oxford University Press. Includes photos and detailed field descriptions of all species documented in North America, and by extension, Boulder County.
Opler, Paul, and Amy Bartlett Wright. 1999. A Field Guide to Western Butterflies, Peterson Field Guide Series. Houghton Mifflin, Boston. Very comprehensive, with illustrations, photos, range maps, and more detailed species descriptions.
Plants
Beidleman, Linda, Richard Beidleman, and Beatrice Willard. 2000. Plants of Rocky Mountain National Park. Rocky Mountain Nature Association and Falcon Publishing, Helena, Montana. Contains photos and descriptions of nearly 300 species found in Rocky Mountain National Park.

Gellhorn, Joyce. 2002. Song of the Alpine. Johnson Books, Boulder, CO. A lyrical and fact-filled introduction to Boulder County's most celebrated ecosystem.
Johnson, James, and Gary Larson. 1999. Grassland Plants of South Dakota and the Northern Great Plains. South Dakota State University, Brookings. Though focused on a different part of the country, this is the best general guide we have found to grasses and wildflowers of eastern Colorado shortgrass and mixed-grass prairies.
Weber, William. 2001. Colorado Flora, Eastern Slope. University Press of Colorado, Boulder. This is the definitive guide to eastern slope flora, and the only one that includes comprehensive keys to all documented species.
Willard, Bettie E. and Michael T. Smithson. Alpine Wildflowers of the Rocky Mountains. Rocky Mountain Nature Association, Estes Park, CO. A photographic pocket guide to alpine wildflowers.
Wingate, Janet L. 1994. Illustrated Key to the Grasses of Colorado. Wingate Consulting, Denver, CO. Combined with Johnson and Larson (above), this book will enable you to identify from photos or key out several dozen common grasses.