Listen to Nature Almanac
on KGNU Radio,
88.5 FM, 1390 AM
on the first Friday of every month at 8:06 am
Milkweed beetle

Click for these KGNU
September Nature Almanac Shows:

Each show runs about 3.5 minutes. The mp3 files are about 3.5 MB; the time to load depends on your connection speed. Problems? Click here.
Boulder Weather
Avg. High: 76° F
Avg. Low: 49° F

Max. High: 100° F (1983)
Min. Low: 15° F (1985)

Avg. Precip: 1.52"
Max. Precip: 5.50" (1940)

Average Snow: 1.5"
Max. Snow: 21.0" (1971)

Max Wind: 131
September Wildflowers
Common Evening-Primrose
(Oenothera villosa)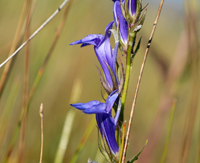 Great Blue Lobelia (Lobelia syphilitica)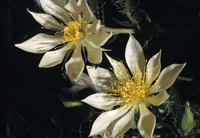 Ten-petal Evening Star
(Nuttallia decapetala)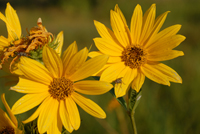 Nuttall's Sunflower (Helianthus nuttallii)
Bull elk should begin their bugling displays in mountain meadows early this month.

Elk bulls go into a frenzy of bugling and macho displays as they attempt to collect as many females as possible into their harems. The big, posturing males emit an eerie, high-pitched whinny ending in a series of snorts, trying to convince rivals that the bugler is big and bad and not to be messed with. Larger bulls have deeper voices, so you can guess their size and status from the pitch of the bellow.

Decreasing periods of daylight may be the trigger for physiological changes in the bulls. Their necks and shoulders become swollen, and they vent their stress by bugling, rolling in urine-soaked grass, wallowing in mud, and attacking trees and shrubs. Gashes and other tree damage attributed to bears are often the work of elk. Between brawling and mating, a dominant male has little time to eat or sleep and may lose up to 100 pounds by the time the rut ends in October.

Elk, also called "Wapiti," were almost extirpated from Colorado in the early 1900s because of heavy hunting. Now the population is actually increasing and may be a adversely affecting mule deer numbers. Elk feed on small trees, shrubs, grasses, and forbs and impair the regeneration of aspen and willow stands in Rocky Mountain National Park and elsewhere. Nevertheless, for many of us their bugling is the fanfare that heralds autumn.

In Boulder County you can see and hear Elk at dawn and dusk in mountain meadows, such as those at Caribou Ranch, from now until late October.

Other September Events

Aspen reach their full glory of color by third or fourth week.
Wild Roses, Poison Ivy, and other understory plants turn crimson, scarlet, orange, and yellow.
Wild Plums, grapes, and "escaped' apples ripen.
Hummingbirds leave, usually by mid-month.
Hawk migration peaks by end of month.
Ladybugs aggregate on top of Green Mountain and other peaks.

The "Harvest Moon" is the moon closest to the autumnal equinox. On average, the moon rises 50 minutes later each night. But around the autumn equinox, the nearly full moon rises just 25 minutes later each evening. Hovering close to the horizon just after sunset for several consecutive days, the moon provides extra light for farmers to harvest their crops. This apparent anomaly is caused by the Earth's tilt relative to the orbit of the moon. In September the lunar ecliptic makes its shallowest angle relative to the eastern horizon. See a more detailed explanation in Sky and Telescope magazine (article from 2002).

Photos: Elk - George Oetzel; Flowers - Steve Jones

Read Ruth Carol Cushman and Stephen Jones's Nature Almanac column in the Daily Camera "Get Out" section the first Friday of each month.

September Nature Almanac: Red milkweed beetles flourish after record rains

Monsoon showers produce second greening of Boulder County grasslands

Rabbit brush attracts late summer butterflies

Giant eveningstars work late-summer magic in Boulder County

An autumn nature walk: Big Bluestem and South Boulder Creek West Loop

Click logo for KGNU on the Web