Listen to Nature Almanac
on KGNU Radio,
88.5 FM, 1390 AM
on the first Friday of every month at 8:06 am
Click for these KGNU
August Nature Almanac Shows:

Each show runs about 3.5 minutes. The mp3 files are about 3.5 MB; the time to load depends on your connection speed. Problems? Click here.
Boulder Weather
Avg. High: 84° F
Avg. Low: 58° F
Max. High: 102° F (1936)
Min. Low: 37° F (1910)
Avg. Precip: 1.55"
Max. Precip: 7.49" (1951)
Average Snow: 0"
Max. Snow: 0"
Max Wind: 101
August Wildflowers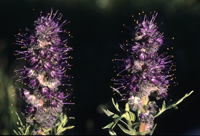 Purple Fringe (Phacelia sericea)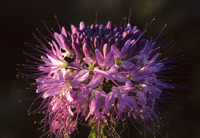 Rocky Mountain Bee Plant (Cleome serrulata)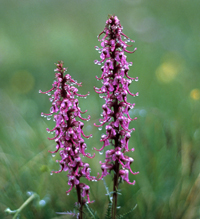 Little Elephants' Heads (Pedicularis groenlandica)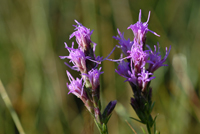 Gayfeather (Liatrus punctata)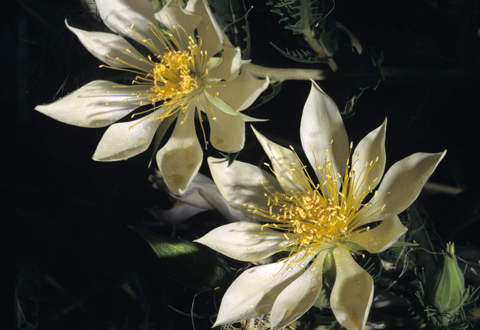 10-petal blazing star (Mentzelia decapetala)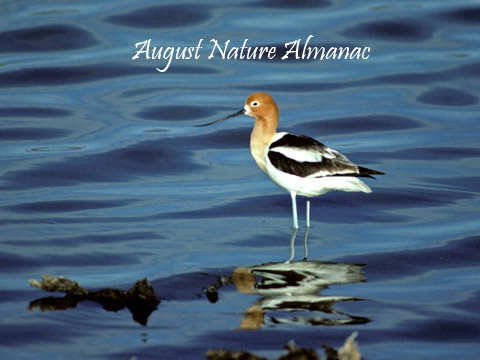 A few American Avocets nest in Boulder County, but many more pass through on their way south.
In early August the mornings begin to feel a little crisper, the sky grows noticeably bluer, and migrating shorebirds appear around prairie lakes and ponds. Baird's Sandpipers skitter across the mudflats at Gaynor Lakes, while feeding Wilson's Phalaropes spin like tops in the shallows. Long-billed Dowitchers, Greater Yellowlegs, and American Avocets probe for invertebrates at Walden Ponds. Farther east, at places like Union Reservoir and Barr Lake, you can find a dozen or more species encompassing the full array of shapes, sizes, and feeding habits.
Shorebirds always seem to be ahead of schedule. In early spring, as they race north toward favored breeding sites, they begin to pass through long before the first leaves appear on the cottonwoods. Some individuals return from the north in early July, when the days are hot and other birds are still incubating eggs. Many of these midsummer migrants are failed breeders.
A few species, such as Bar-tailed Godwits, may complete nonstop migrations of up to 6500 miles, but most travel in much shorter flights, stopping to refuel along the way. "Staging areas," like Cheyenne Bottoms in Kansas, serve as critical feeding and rest stops. During spring migration up to 45 percent of the entire North American shorebird population may gather at Cheyenne Bottoms.
Migrating shorebird numbers in Boulder County fluctuate from summer to summer depending on water levels. Look for shorebirds around prairie ponds and lakes that contain a good amount of water surrounded by exposed mudflats.
Other August Events
If the midsummer monsoon rains arrive on schedule, mushrooms proliferate in Front Range montane and subalpine forests.
Elk and Deer begin to scrape velvet from antlers that are now full grown.
At dusk Common Nighthawks "peent" and "vroor" as they swoop through the sky nabbing flying insects.
Gentians flourish in high mountain forests and in the alpine tundra.
Eveningstars, gangly members of the stick-leaf family with gorgeous, star-shaped blossoms, unfurl at dusk on the plains and in the foothills. At the beginning of the month, look for ten-petal eveningstars blooming on exposed shales along US 36 north of Boulder.
Read Ruth Carol Cushman and Stephen Jones's Nature Almanac column in the Daily Camera "Get Out" section the first Friday of each month.
Click logo for KGNU on the Web