Listen to Nature Almanac
on KGNU Radio,
88.5 FM, 1390 AM
on the first Friday of every month at 8:06 am
Click for these KGNU
July Nature Almanac Shows:

Each show runs about 3.5 minutes. The mp3 files are about 3.5 MB; the time to load depends on your connection speed. Problems? Click here.
Boulder Weather
Avg. High: 85° F
Avg. Low: 58° F
Max. High: 104° F (1954)
Min. Low: 40° F (1921)
Avg. Precip: 1.85"
Max. Precip: 7.46" (1919)
Average Snow: 0"
Max. Snow: 0"
Max Wind: NA
July Wildflowers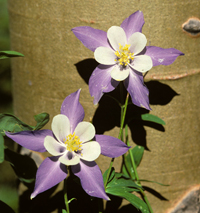 Rocky Mountain Columbine
(Aquilegia coerulea)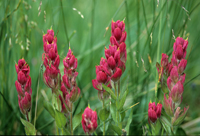 Paintbrush (Castilleja sp.)
Wild Licorice (Glycyrrhiza lepidota)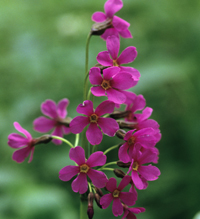 Parry Primrose (Primula parryi)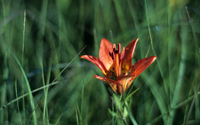 Wood Lily (Lilium philadelphicum)
Yellow-legged Meadowhawk - Steve Jones
After the springtime birds have become generally quiet, other winged creatures garner the attention of the summer naturalist. Butterflies are at their peak numbers, but another order of insect is peaking in the sky--the Odonata. These are the "toothed-jawed" insects known as dragonflies and damselflies.
Though not quite as conspicuous as the butterflies, the dragonflies do dazzle with a rainbow of colors, including emeralds, lavenders and reds. Many species have distinctive wing markings. Their names reflect their unique characteristics: Twelve-spotted Skimmer, American Rubyspot, Cherry-faced Meadowlark, Blue-eyed Darner.
Boulder County's wetlands host nearly 60 varieties. Here these insects live out amazing duel lives, with the majority of time spent as nymphs in the murky depths. Voracious predators as winged adults, the dragonflies are equally insatiable during their aquatic stage of life. Armed with an incredible lower jaw, the nymphs use this "spear gun" to snatch aquatic insects.
Dragonfly watching peaks in midsummer, as the year-old nymphs emerge to spend a few weeks as acrobatic winged adults. An inspiration to many aeronautical engineers, the dragonflies use their four independent moving wings to climb, dive, hover, and fly backwards in the blink of an eye. These skills help them catch prey, maintain territories, mate, and lay eggs. In a few short weeks they will have completed their lives, and sewn the seeds for next summer's swarm.
Several locales host good dragonfly air shows, including Walden/Sawhill Ponds, Pella Crossing (Hygiene) and Golden Ponds (Longmont). Less obvious spots include plains and foothill meadows, showing that species can turn up in many places. Get out and enjoy the buggy fireworks!
---Article by Scott Severs
Other July Events
The North American Fourth of July Butterfly Count is held during the first week of the month.
Rufous Hummingbirds appear at urban and rural feeders. They are completing an elliptical migration that takes them up the Pacific Coast in spring and down the spine of the Rockies in late summer. Along the way, they stake out and defend foraging territories containing nectar sources.

Least Chipmunks are born by early July and leave the nest about four weeks later.

Golden and Bald Eagle young fledge.

Toward the end of the month, south-migrating Franklin's Gulls often gather at Boulder Reservoir.
All photos: Steve Jones
Read Ruth Carol Cushman and Stephen Jones's Nature Almanac column in the Daily Camera "Get Out" section the first Friday of each month.
Click logo for KGNU on the Web