Listen to Nature Almanac
on KGNU Radio,
88.5 FM, 1390 AM
on the first Friday of every month at 8:06 am
Click for these KGNU
June Nature Almanac Shows:

Each show runs about 3.5 minutes. The mp3 files are about 3.5 MB; the time to load depends on your connection speed. Problems? Click here.
Boulder Weather
Avg. High: 80° F
Avg. Low: 53° F
Max. High: 104° F (1954)
Min. Low: 30° F (1951)
Avg. Precip: 1.88"
Max. Precip: 7.40" (1949)
Average Snow: 0"
Max. Snow: 2.2" (1951)
Max Wind: 120
June Wildflowers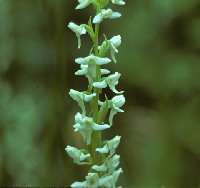 Bog Orchid
Limnorchis sp.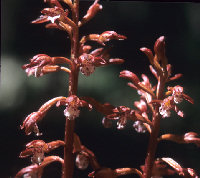 Spotted Coralroot
Corallorhiza maculata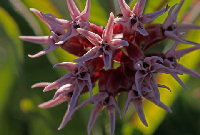 Common Milkweed
Asclepias speciosa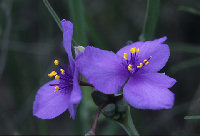 Spiderwort
Tradescantia occidentalis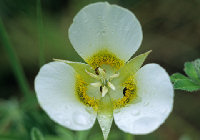 Mariposa Lily
Calochortus gunnisonii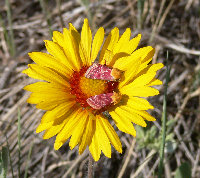 Gaillardia
Gaillardia aristata
with Colorado firemoths
Schinia masoni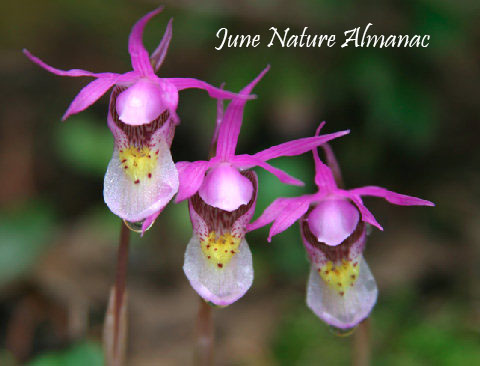 Calypso orchids (Calypso bulbosa) are among the earliest orchids to bloom in spring.
Orchids bring to mind exotic corsage flowers growing as epiphytes from tropical tree branches. But orchid blossoms range in size from the width of a pinhead to more than 5 inches across. Orchids grow from the tropics to the subarctic. Many are rare and endangered. Colorado is blessed with almost two-dozen native species that grow between 7,000 and 11,000 feet.
Most exquisite and one of the earliest to bloom is the Calypso fairy slipper or moccasin flower. Each blossom has a swollen lower petal or lip shaped like a moccasin decorated with purple stripes and yellow fringe. Lavender or rose-colored sepals and petals add a crowning touch. The plant has a single round basal green leaf and a three- to five-inch stalk that supports each delicate flower.
Calypsos grow under aspen or pine forests in moist, shady locations that receive sunlight only briefly during the day. Frequently these orchids are associated with heartleaf arnica. In years when the snow melts early, the orchids bloom as early as late May; other years they don't appear until early July. Sometimes twenty to thirty plants make a splash at the same time, but blooming time is short, no more than ten days. Their brief blooming period and small stature often cause these gems to be overlooked. You need to be a careful observer to be rewarded in seeing this beauty.
- by Joyce Gellhorn.
Other June Events
Bighorn lambing peaks early in the month in North St. Vrain Canyon, the Little Thompson river valley near Estes Park, and on Specimen Mountain.
The first Rocky Mountain columbines appear in shady foothills forests.
Common nighthawks perform aerial courtship displays on the plains and in the foothills, making a bull-like "vroor" as they dive and the wind rushes through their wings.
Tiny flammulated owls hoot softly in secluded foothills canyons. They lay their eggs in woodpecker holes in aspens and ponderosa pines. They flutter through the darkness capturing moths and other insects in their talons.
Little brown bats, weighing 1.5 to 2 grams, are born in late June or early July.
Photo credits:
Flowers, Steve Jones, except
Calypso Orchids: Joyce Gelhorn
Gaillardia & moths, George Oetzel
Read Ruth Carol Cushman and Stephen Jones's Nature Almanac column in the Daily Camera "Get Out" section the first Friday of each month.
Click logo for KGNU on the Web