Listen to Nature Almanac
on KGNU Radio,
88.5 FM, 1390 AM
on the first Friday of every month at 8:06 am
Click for these KGNU
May Nature Almanac Shows:

2014 Painted Turtles and Snappers Too!
2013 Twin Lakes birds
2012 Early Spring
2011 White Pelicans
2010 Walden Ponds Rails
2009 White Pelicans
2008 Cottonwoods - migrants
2007 Early cactus
2006 Migrant songs
2005 Painted Ladies
2004 Skunk Canyon
2003 Gregory Canyon
2002 Boulder Creek
2001 Walden Pond

Each show runs about 3.5 minutes. The mp3 files are about 3.5 MB; the time to load depends on your connection speed. Problems? Click here.
Boulder Weather
Avg. High: 69° F
Avg. Low: 44° F
Max. High: 95° F (2000)
Min. Low: 20° F (1907)
Avg. Precip: 2.98"
Max. Precip: 9.59" (1995)
Average Snow: 1.5"
Max. Snow: 26.7(1931)"
Max Wind: 110
May Wildflowers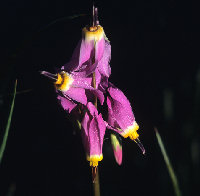 Shooting Star
Dodecatheon pulchellum)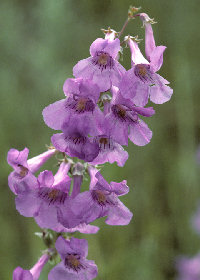 One-sided Penstemon
Penstemon secundiflorus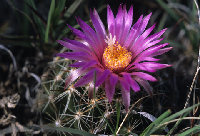 Pincushion Cactus
Coryphantha vivipara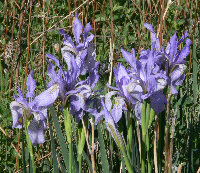 Rocky Mountain Iris
Iris missouriensis)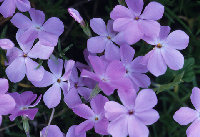 Rocky Mountain Phlox
Phlox multiflora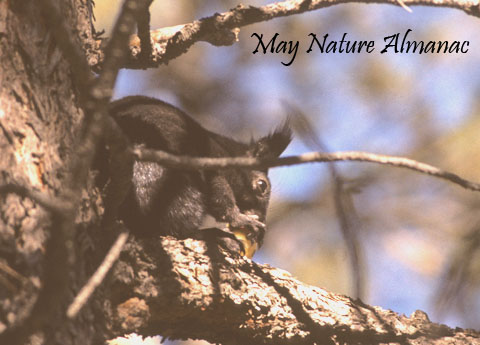 Abert's Squirrels feed on pine nuts, the inner bark of pine twigs, buds, mushrooms, and wild fruits. During spring "mating bouts," males chase estrous females through the ponderosa canopy.
If you sit quietly in a ponderosa pine forest in May, you may see a troupe of Abert's Squirrels dashing from limb to limb in a madcap mating ritual. The estrous female takes the lead, with several ardent admirers close on her tail. The chase order typically corresponds to the proximity of each male's home range to that of the female. If one of the males "cuts in line," his competitors may wrestle him to the forest floor.
Young are born in early summer and spend their first few weeks in a massive stick nest high in the canopy. An interconnected canopy helps these arboreal squirrels avoid predation and may partially explain their dependence on mature ponderosa pine forests.
The presence of false truffles, which grow symbiotically on ponderosa pine roots, helps Abert's Squirrels survive lean times. The squirrels dig up the mushrooms and carry them to other parts of the forest, inadvertently scattering the spores and thus contributing to forest health.
Sadly, non-native Fox Squirrels have displaced Abert's Squirrels on some of the mesas west of Boulder. Only time will tell what impact this change has on the ponderosa pine ecosystem.
Other May Events
Colorado Chipmunk young are born.
Displaying Dusky Grouse drum their wings while uttering a series of hoots that sound like a jug in a jug band. Testosterone-charged grouse will peck at the ankles of hikers who intrude into their displaying areas.
Cecropia Moths hatch from cocoons spun on deciduous trees last fall.
Legions of Miller Moths may pass through on their way to mountain areas where they feed on nectar before returning to the plains in late summer to breed.
Great Horned Owl young fledge on the plains. Average fledge dates appear to be 7-14 days earlier now than they were 30 years ago.
May 2013 Events
May 5: The full moon rises at 8:03 p.m.
When the Ponies Shed Their Shaggy Hair (Arapaho)
Planting (Lakota)
When the Horses Get Fat (Cheyenne)
Photo credits: Squirrel and flowers, Steve Jones, except
Irises, George Oetzel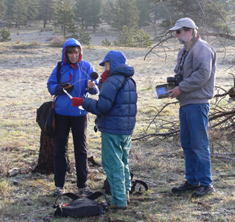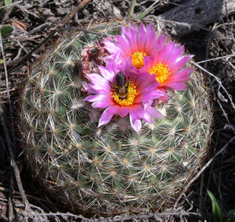 Early morning at Walker Ranch, recording Nature Almanac for May 2007 - Shelly Schlendler with microphone, Ruth Carol Cushman, Steve Jones. On right, ball cactus with bee. Photos by George Oetzel
Read Ruth Carol Cushman and Stephen Jones's Nature Almanac column in the Daily Camera "Get Out" section the first Friday of each month.
Click logo for KGNU on the Web