Listen to Nature Almanac
on KGNU Radio,
88.5 FM, 1390 AM
on the first Friday of every month at 8:06 am
Click for these KGNU
April Nature Almanac Shows:

Each show runs about 3.5 minutes. The mp3 files are about 3.5 MB; the time to load depends on your connection speed. Problems? Click here.
Boulder Weather
Avg. High: 61° F
Avg. Low: 35° F
Max. High: 88° F (1989)
Min. Low: -3° F (1975)
Avg. Precip: 2.54"
Max. Precip: 9.18" (1900)
Avg. Snow: 9.0"
Max. Snow: 47.6" (2013)
Max. Wind: 127 mph (1982)
April Wildflowers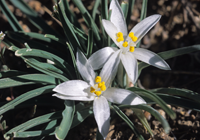 Sand Lily
Leucocrinum montanum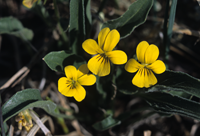 Nuttall's Violet
Viola nuttallii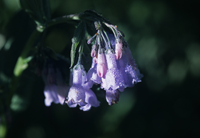 Chiming Bells
Mertensia lanceolata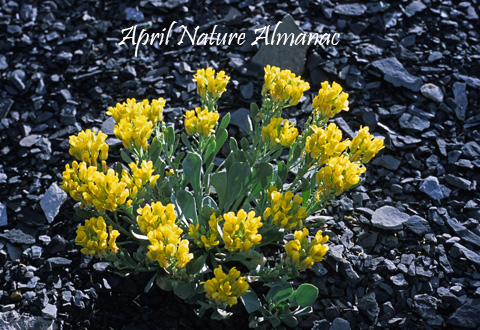 Bell's Twinpod, a mustard endemic to Larimer, Boulder, and Jefferson counties, blooms on shale outcrops along US 36 in mid-April.
For April 2011, there was a second, longer interview, in addition to the KGNU broadcast referenced in the list in the left column. It is available here.
People sometimes ask what's the "rarest" plant in Boulder County. One choice would be White Adder's-Mouth (Malaxis monophyllos), a tiny orchid that grows in one or two small seeps on Green Mountain and has been found nowhere else in Colorado. But a case could be made for Bell's Twinpod (Physaria bellii). Though locally common, this tenacious mustard is globally very rare, growing only on limestones and calcareous shales in the northern Front Range foothills.
In mid-April the mustard's bright yellow, wheel-shaped florettes stand out against the dark shales on either side of US 36 north of Boulder. Bell's Twinpod is named for its inflated, two-chambered seed pods. "Physa" means bellows. The flower stalks splay out around a central cluster of pale green, fiddle-shaped leaves.
Because it grows only on bare shales in a minute geographic area, this mustard is particularly vulnerable to environmental change. In an article for the Boulder Daily Camera, University of Colorado ecologist Jeffry Mitton reminds us that the nearly competitor-free niche that Bell's Twinpod has carved out is a precarious one. Shales erode rapidly, and this habitat specialist may survive only so long as the unique shale formations it has colonized persist.
Other April Events
Beaver, Raccoon, and Porcupine young are born.
A few Burrowing Owls return and mate. Fragmentation and disturbance of prairie dog colonies, collisions with automobiles, and predation by urban-adapted carnivores have nearly driven this little owl from Boulder County.
Prairie Falcons and Peregrine Falcons lay their eggs on cliff ledges in the foothills.
Broad-tailed Hummingbirds return from Mexico and Central America, Swainson's Hawks from Argentina.
Bullsnake males joust, cobra-like, to win the opportunity to mate with nearby females.
April 2013 Events
April 15: Total lunar eclipse, which occurs when the moon passes through the shadow of the Earth. The moon will gradually get darker, then become rusty or blood red. The eclipse will begin at 10:55 pm and become total at 1:08 am in Denver/Boulder. Local times and description.
April 22,23: The Lyrids Metero Shower. This is an average shower, generally with 20 meteors per hour at its peak.
Ice Breaking in the River (Arapaho)
Green Grass (Pawnee)
When the Geese Lay Their Eggs ( Cheyenne )
Photo credits: Flowers and Burrowing Owls - Stephen Jones
Falcons (link) - Bill Schmoker
Read Ruth Carol Cushman and Stephen Jones's Nature Almanac column in the Daily Camera "Get Out" section the first Friday of each month.
Click logo for KGNU on the Web