Listen to Nature Almanac
on KGNU Radio,
88.5 FM, 1390 AM
on the first Friday of every month at 8:06 am
Click for these KGNU
March Nature Almanac Shows:

2014 Wood ducks

2004 March Flowers & Birds

2003 Butterflies & Flowers

2002 Mesa Tr. Golden Eagles
2001 Dinosaur Ridge

Each show runs about 3.5 minutes. The mp3 files are about 3.5 MB; the time to load depends on your connection speed. Problems? Click here.
Bird and wildlife monthly inventories
The Boulder Audubon Society has keeps a monthly list of bird and wildlife sightings in Boulder County since December 2001.
Boulder Weather
Avg. High: 51° F
Avg. Low: 27° F
Max. High: 83° F (1910)
Min. Low: -13° F (1932)
Avg. Precip: 1.68"
Max. Precip: 5.44" (2003)
Avg.Snow: 17.4"
Max. Snow: 56.7" (1970)
Max wind: 106 mph (1991)
March Wildflowers
Click for larger images.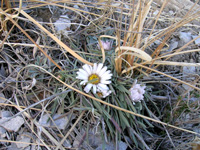 Early Easter Daisy
Townsendia hookeri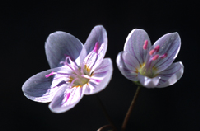 Spring Beauty
Claytonia rosea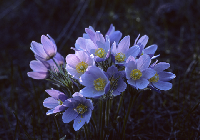 Pasqueflower
Pulsatilla patens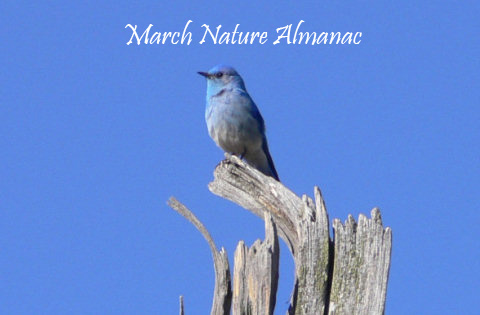 Mountain Bluebirds return to Boulder County in March. In April, they are conspicuous as they select among the nest boxes at Walker Ranch.
If Emily Dickinson had lived in Colorado, the mountain bluebird might have been the species that inspired her line, "Hope is the thing with feathers." It's the northward migration of bluebirds, not the appearance of robins (year-round Colorado residents) that signals spring in Boulder County.
A few mountain and western bluebirds may overwinter in Boulder County, but the first good-sized flocks usually arrive here in late February or early March. These cavity-nesters use old woodpecker holes in aspens and ponderosa pines, and readily take to birdhouses if the entrance hole is 1 9/16" in diameter.
Western bluebirds were listed as "rare and declining" in Boulder County as recently as 1990. Retention of standing dead trees and erection of artificial nest boxes has contributed to their recovery.
Other March Events
Bald Eagles (cottonwoods on plains) and Golden Eagles (cliffs and foothills) refurbish nests and lay their eggs.
Chorus Frogs chirrup in prairie wetlands.
Snowshoe Hares and Long-tailed Weasels begin their pre-vernal molt.
Rainbow trout spawn.
A half-million migrating Sandhill Cranes gather along the Platte River in central Nebraska.
March 2013 Events
March 20: Vernal Equinox. This is a time for blessing the fields and animals. Eggs are painted and used in rituals. Flowers are worn and placed on altars. The Greek festival of Aphrodite was held around April 1. Eoaster is the Saxon fertility goddess.
March 16: Full moon
Sore Eyes (Lakota)
Buffaloes Dropping Their Calves (Arapaho)
Water Stands in Ponds (Ponca)
This full moon was known by early Native American tribes as the Full Worm Moon because this was the time of year when the ground would begin to soften and the earthworms would reappear. This moon has also been known as the Full Crow Moon, the Full Crust Moon, and the Full Sap Moon.
Photo credits: Bluebird: George Oetzel
Flowers: Steve Jones
Read Ruth Carol Cushman and Stephen Jones's Nature Almanac column in the Daily Camera "Get Out" section the first Friday of each month. Some of the above text is from the March, 2006 column and reproduced with permission from the Daily Camera.
Click logo for KGNU on the Web