Listen to Nature Almanac
on KGNU Radio,
88.5 FM, 1390 AM
on the first Friday of every month at 8:06 am
Click for these KGNU
December Nature Almanac Shows:

Each show runs about 3.5 minutes. The mp3 files are about 3.5 MB; the time to load depends on your connection speed. Problems? Click here.
Boulder Weather
Avg. High: 47° F
Avg. Low: 23° F
Max. High: 76° F (1979)
Min. Low: -24° F (1988)
Avg. Precip: 0.9
Max. Precip: 4.20" (1913)
Average Snow: 13.0"
Max. Snow: 52.5" (1913)
Max wind: 120
December Wildflowers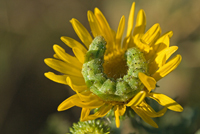 Gumweed (Grindelia squarrosa)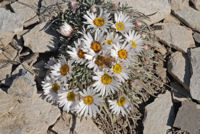 Early Easter daisies
(Townsendia hookerii and T. exscapa)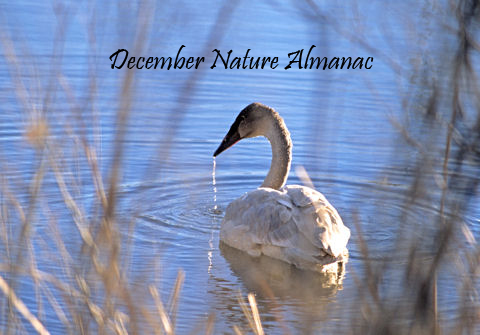 An immature trumpeter swan overwintered at the Marshall gravel ponds, along South Boulder Creek Trail, in 2005.
A new late-fall tradition in Boulder County is the annual appearance of one or more trumpeter swans on prairie lakes and ponds. The swans usually show up just as the last open water is freezing over and most waterfowl have headed farther south.
Trumpeter swans disappeared from most of the prairie region during the first two-thirds of the 20th century. By the 1950s these majestic birds had grown very rare. Protection from hunting, along with reintroduction programs in the northern Rockies and northern plains, have helped populations to recover.
Several hundred pairs now nest in the Greater Yellowstone Basin, the Dakotas, and the Nebraska Sandhills. Several thousand pairs nest from western Alaska south and east into the Canadian prairies. In December look for migrating trumpeters, and an occasional stray tundra swan, at Boulder Reservoir, Baseline Reservoir, Sawhill Ponds, and Lake Valley Pond.
Other December Events
Early Easter daisies (Townsendia hookerii and T. exscapa) begin to bloom
on south-facing shales in foothills canyons.
The Boulder and Longmont Christmas bird counts are held during the last
or second-last weekend before Christmas. New volunteers are always welcome: www.boulderaudubon.org
Mule deer finish up sparring maneuvers and begin shedding antlers.
Bighorn sheep continue dueling on high mountain escarpments.
American dippers migrate down from the mountains to fish for aquatic
insects in Boulder and St. Vrain Creeks. Look for them along the Boulder
Creek Trail just north of Walden Ponds.
Pasture sage and fringed sage leaf out on sunny hillsides.
Winter solstice on December 21
Frost on Lodge (Lakota)
Popping Trees (Arapaho)
When the Deer Run Together (Cheyenne)
All photos: Steve Jones
Read Ruth Carol Cushman and Stephen Jones's Nature Almanac column in the Daily Camera "Get Out" section the first Friday of each month. December's column: A great tale of grackles in Boulder County.
Click logo for KGNU on the Web