Listen to Nature Almanac
on KGNU Radio,
88.5 FM, 1390 AM
on the first Friday of every month at 8:06 am
Click for these KGNU January Nature Almanac Shows:
Each show runs about 3.5 minutes. The mp3 files are about 3.5 MB; the time to load depends on your connection speed. Problems?
Click here
.
Boulder Weather
Avg. High: 44° F
Avg. Low: 20° F
Max. High: 77° F (1934)
Min. Low: -33° F (1930)
Avg. Precip: 0.70"
Max. Precip: 2.50" (1948)
Average Snow: 10.0"
Max. Snow: 35.0" (1948)
Max. Wind: 147 mph (1971)
January Wildflowers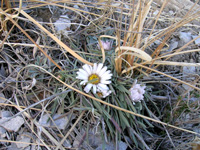 Early Easter Daisy
Townsendia hookeri
photo: Curt Brown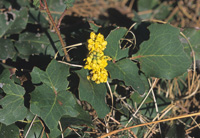 Oregon Grape
Mahonia repens
photo: Steve Jones

The White-tailed Ptarmigan is one of the few birds adapted for survival in the winter snow and cold at high altitudes in the Rockies.
Winter along the Continental Divide lasts six months, from late October to late April. It's a time when most birds migrate and retreat from the hostile weather, but one bird designed for survival in the snow and cold remains. This unique bird, the white-tailed ptarmigan, often rests unseen in shelters dug in snowdrifts.
Winter-white plumage not only camouflages these grouse, it also keeps them warm. The hollow central axis of white feathers is filled with insulating air spaces. A ptarmigan's undercoat of fluffy down feathers further increases the loft of its coat. Muscles connected to feather tracts enable birds to fluff themselves up to trap more air when it's cold, a mechanism called piloerection.
Ptarmigan even have feathered nostrils and eyelids. Feathered nostrils, like hairs in our nasal passages, help warm the air before it enters the lungs, while feathers on the eyelids cover and insulate a small portion of skin that otherwise might be vulnerable to cold air.
The birds feed and rest among willow shrubs, often roosting beneath the snow. Occasionally when I ski too close to a snow burrow, a white bird flies up suddenly, emerging from the snowpack like popcorn. On calm days, ptarmigan sitting motionless on the snow surface appear like ghosts in a white-on-white world.
- by Joyce Gellhorn, author of the book, White-tailed Ptarmigan released in 2007.
OtherJanuary Events
Early Easter Daisies (Townsendia hookeri) bloom on bare shales in foothills canyons. The earliest blooming date recorded in Boulder County is November 20, by Curt Brown in Bear Canyon.
Chinook winds commonly howl over 100 mph. Boulder winds have exceeded 130 mph during four separate January storms since 1967.
Great Horned Owls begin nesting on the plains.
Black Bear cubs are born to mothers who are sleeping in shallow dens in the foothills and mountains.
Bohemian Waxwings flock to mountain-ashes and junipers to feed on winter-ripe fruits. In 1988 more Bohemian waxwings (11,284) than Canada Geese were seen on the Boulder Christmas Bird Count. During other years, no waxwings were seen.
Photo credits: Ptarmigan - Joyce Gellhorn
Flowers - Steve Jones
Read Ruth Carol Cushman and Stephen Jones's Nature Almanac column in the Daily Camera "Get Out" section the first Friday of each month.
Click logo for KGNU on the Web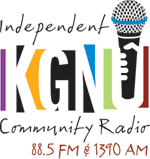 ---